Hua Hin to Pattaya Ferry online booking with Mermaid Cruises
The Hua Hin Ferry will be starting again running from
December 9, 2011 to March 5, 2012.
Thailiving Ferry provides a new high speed catamaran ferry service between Pattaya and Hua-Hin.

The ferry operates a regular schedule of two crossings per week.

Monday and Friday

The crossing takes about 3 hours 15 minutes.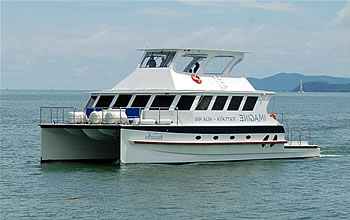 Ferry Schedule
Departing from Pattaya at 08:30
Departing from Hua Hin at 12:30
Transportation to and from piers in Hua Hin and Pattaya to a central drop point in the cities is included.

Hua Hin Ferry Pickup points from Hua Hin are as follows:
Clock Tower, Petchkasem Road - 11.30
Intercontinental Hotel, Petchkasem Road - 11.45
Mermaid Cruises Marina - 12.10
Departure - 12.30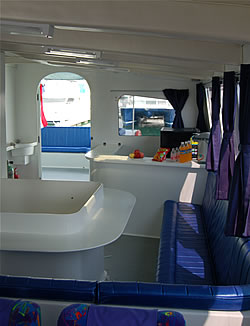 Check-in time for passengers going directly to the Marina 12.00 noon.

Secure car park free up to 2 days. Drinks & snacks available at the Marina.

Pattaya Ferry Pickup points from Pattaya are as follows:
Royal Garden, Beach Road - 07.30
Thailiving Ferry Office, Thapraya Road - 07.45
Ocean Marina - 08.15

Free tea/water/coffee and sandwich on board. Soft drinks & beer also available.

Bicycles free (one per person).

Through bookings can also me made to Koh Samet & Koh Chang in the east and Koh Samui, Koh Tao and Koh Phangan in the south.





Hua Hin to Pattaya Ferry Rates
One Way
2,100
Return
4,000
Child (under 13) One Way
1,250
Child (under 13) Return
2,000
Family (2 adults, 2 children) One Way
5,500
Family (2 adults, 2 children) Return
10,500
Parcel Service (under 3kg)
350
* Baggage not to exceed 20kg per person.


Please call 032-632223 (office) or 084-8007400/087-1701110 (mobile)

You can book the ferry via this form from either Hua Hin or Pattaya.
Your enquiry will be passed to the booking office for the Hua Hin Pattaya Ferry,
they will reply with confirmation and a booking voucher which can be presented at your chosen departure point.
For additional information, schedule updates and cancellation notices in English, German or Thai please call 084-8007400.
Click here to book the Hua Hin Pattaya ferry via Mermaid Cruises
You can read comments and information on the new service on the Hua Hin Forum.


Hua Hin Ferry | Pattaya Ferry | Hua Hin to Pattaya Ferry | Pattaya to Hua Hin Ferry