Freshwater fishing in Hua Hin at Hua Hin Fishing Lodge
We are situated just 10 km from the centre of Hua Hin in the peaceful countryside of Hin Lek Fai,
and signposted off the Pala-U road. Find us on the Hua Hin Map

Restaurant, Beer, Wine & Accommodation

We are open for day fishing, please call us on: 081-9271271 or 089-8374079
Email:
Family fun - Children are welcome. Large Children's Playground. Plenty of parking. Evening & Night Fishing available
Two linked bungalows - each capable of sleeping 3 persons are available at THB 1,200 / night. March to October and THB 1,500 / night November to February. These bungalows are Air Conditioned with Satellite TV / Fridge / Hot Shower / Toilet / Coffee – Tea Facilities / Porch area with fan / Granite Floors.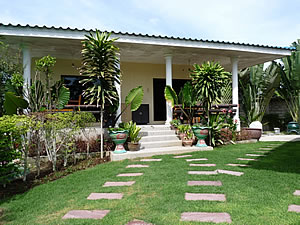 Transportation within HuaHin area, to & from the lodge can be arranged subject to availability.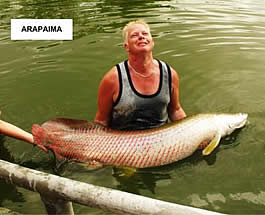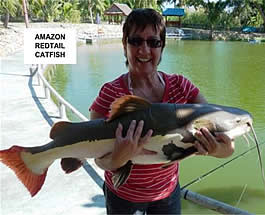 We have two fishing ponds, each with sun shelters (salas), casting deck and handwash facilities. Food and drink can be served at your swim if required.

Our ponds are stocked with at least 40 varieties of fish including, Giant Mekong Catfish, Striped Catfish, Arapaima, Amazon Redtail Catfish, Tiger Catfish, Arawana, North African Sharptooth Catfish, Alligator Gar, Barramundi, Giant Siamese Carp, Nile Tilapia, Pacu, Tambaqi, Rohu, Giant Gourami, Mad Barb, Red Devil – Tilapia, Golden Price Carp, Takok Tapien, Khoi Carp, Grass Carp, Clown Knifefish, Various Barbs, Gouramis, Eel and others. Click here for the updated fish list.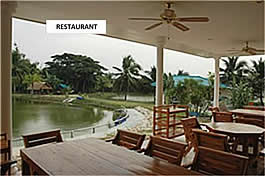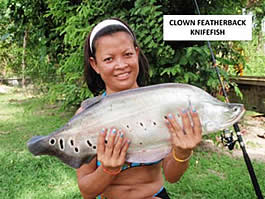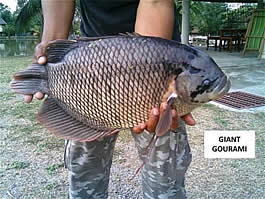 Our RESTAURANT serves over 70 Western & Thai favorites from Burgers and Fish & Chips to Som Tam and Khao Pad Gai - together with plenty of cool beers, wine, soft drinks, snacks & ice cream. Why not just pop over for a relaxing lunch or dinner?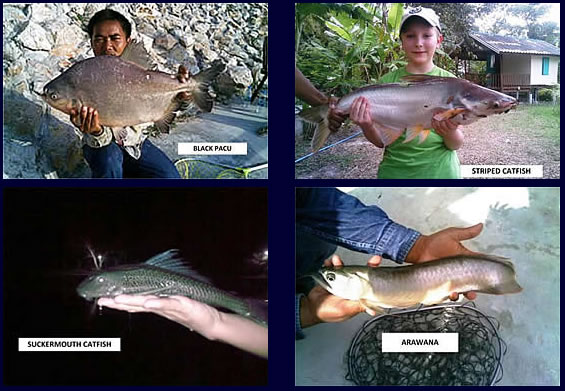 Day Fishing
Day fishing is available on the upper pond at THB 600 / session including provision of one rod. The upper pond has most species including Pla Suwai, Pacu and Pla Cohor (Giant Siamese Carp) + other carps. Fish in this pond for specimens up to 25Kg

Day fishing is available on the WHOLE site, including the upper AND lower pond at THB 1,500 / session including provision of one rod. The lower pond contains specimen Giant Mekong Catfish to 60+kg, Giant Siamese Carp to 30+ kg, South American varieties such as Arapaima to 80+kg, Amazon Redtail Catfish to 20+kg, Tiger Catfish, Pacu, Tambaqi together with local varieties such as PlaSuwai, Pla Chon. There are also North American Alligator Gar to 25+kg and North African Sharptooth Catfish to 12+kg.

Bait available at reasonable cost, from our on-site shop.

We limit fishing to 8 rods / pond so booking in high season is recommended.

Why not try the best value all inclusive One Day Fishing Package in the whole of Hua Hin?

This consists of: Collection from your hotel or guesthouse in the HuaHin, Cha Am and Pranburi area (From 08.30 onwards). Free transportation to the lakes. All day fishing on the whole site i.e. BOTH PONDS as required. (9.00am to 18.30). Use of up to TWO fully tackled and baited rods. MAGNIFICENT LUNCH - a selection from our extensive Western & Thai menu plus a fruit plate. Freelow soft drinks, ice, water, tea or coffee. (Alcohol Charged Extra). Provision of fishing attendant to take care as necessary. Free return transport to your accommodation.
Per Adult - THB 3,500 (THB 3,900 from Pranburi or Cha Am) Per Child (Under 12) THB 1,900
Non fishing accompanying guest THB 500 ALL INCLUSIVE
For more details including location map: www.huahinfishing.com
Find us by using the latest Google Earth technology here: Hua Hin Map.